The forest area by Bratislava is amazing.  Only 10 min from the old town and you find yourself at the beginning of the Carpathian mountains, it's fantastic and not something that you can find in many capital cities.  In fact, many visitors think that to have an amazing experience with nature you have to travel far to places like High Tatras and Slovak Paradise, not realizing the beauty of nature right at their doorstep.
I always loved going mountain biking in the Bratislava forest commonly known as (Zelezna Studienka), but as recent changes in my life, unfortunately there's no longer enough time to enjoy one of my favorite hobbies, actually I thought my mountain biking days were long gone.
Until I recently got the opportunity to ride an electric mountain bike.  A Cannondale Moterra 2017 that I rented from Velocity bike store (price of rental was about 50 Eur, not cheap but in the end it was worth it).
To be completely honest, I never thought much of an electric bike,  they are too heavy and you're not really biking!  In my opinion when you mountain bike you do the following
Feel accomplished from conquering a difficult climb
Get a workout
Enjoy the outdoors / nature
Have a great time on the trails
Riding this electric mountain bike gives you 2/4 .  No, it's not a workout at all, I barely broke a sweat after 2 rides (2hr each) that I did.  And I felt like a cheater when I finally reached the top of the hill, it was all just too easy!  Also, if you are self-conscious, then be prepared to get mean looks from all the other bikers that are suffering while climbing a hill (cheater, really).
But how much did enjoy riding this bike? It was Perfect! While I did not have a workout, I had the best time of my life.  To be back on the trails and be able to cover so much distance in such a short amount of time brought me back so many great memories why I love the forests in Bratislava.
My feelings while riding this bike were:
I'm going 20km/h on one of the most difficult uphills I know –  "Are you kidding me?"
I had to use the brakes on an uphill! – "What is happening!"
Because of the great suspension and big fat tires I am going faster than I ever did downhill –  "YES!"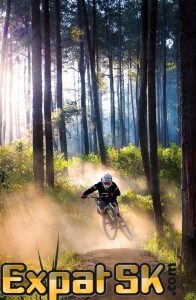 I'll be honest, during my rides I had this stupid smile from ear to ear the whole time, I was having the time of my life.  So that in a nutshell is my recent experience riding an electric mountain bike.  It's a pity about how expensive they are at the moment that I cannot afford to buy one, but it certainly is in the radar for my next big toy if I can ever afford it!
Cons:
There are some cons about riding an electric bike and I can point them out:
Price: The bike I tested out costs 5,000 Euros.  More than my current car
When riding in asphalt this bike was not fun.  You see the bike's motor is limited to be used at maximum 28 km/h so if you go any faster the motor turns off and now you have to try and pedal a very heavy bike, not fun.
Weight: This thing is heavy! at 24kg it was quite cumbersome to go up and down stairs and if you get a flat tire and you have to push that bike, it's going to be not fun at all.
Security: I can't imagine feeling safe leaving the bike anywhere as I got many looks and would be quite an attraction for thieves.
In the end, if you ever have a chance to ride a high end electric mountain bike in the Bratislava forests, Don't miss it! It is truly an incredible experience that will leave you memories for years to come.